Between You and Me: An invitation for you to an awesome party
By Leah S. Dunaief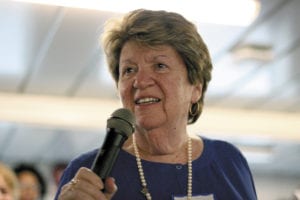 You are invited on a date. The night is Tuesday, Sept. 24, the time is 6 to 8 p.m., and the place is the Bates House opposite the Emma Clark Library on Main Street in Setauket. On behalf of Times Beacon Record News Media — that's us! — I am inviting you and your loved ones and friends to a fun community event. This one, the 2nd annual Cooks, Books & Corks, will feed both your body and mind.
Here's the deal.
Some 18 fine restaurants and caterers are coming together to offer you delicious specialties from their menus, washing it all down with a selection of wines, and a dozen-and-a-half local authors are bringing their latest books for you to peruse and perhaps buy that evening. It's Dutch treat at $50 a ticket, and the proceeds will go to a summer fellowship for a journalism student. In this way, you can help a young person take a paid step toward his or her ultimate career even as you help yourself to a scrumptious dinner and a literary treat that encourages local authors. And you will be helping us, the hometown news source, staff up a bit at a time when our regular team members tend to take vacations.
Here are some of the details.
The food will be supplied by these generous eateries: The Fifth Season, Old Fields, Pentimento, Elegant Eating, Sweet Mama's, Zorba the Greek, Fratelli's Bagel Express, Prohibition Port Jefferson, Toast Coffeehouse, Villa Sorrento, Lauren's Culinary Creations, Sunrise of East Setauket Senior Living, Southward Ho Country Club, Sunflower Catering & Event Planning. Fishers Island Lemonade and Luneau USA will supply drinks. Desserts will be sweetly taken care of by, among others, Kilwins and Leanne's Specialty Cakes. I'm salivating just typing the list. Start fasting. Come hungry.
Local authors include Jeannie Moon, Marcia Grace, Jeannine Henvey, Susan Van Scoy, Angela Reich, Ty Gamble, Dina Santorelli, Elizabeth Correll, Suzanne Johnson, Joanne S. Grasso, Rabbi Stephen Karol, Kerriann Flanagan Brosky, Michael Mihaley, Carl Safina, Mark Torres, Michael Hoffner and Linda Springer. People will be able to meet and greet with the authors and request book signings. Why would anyone want to write a book? How does one go about the process? Getting it published? Having it distributed? Would they recommend doing so to would-be authors? This is an awesome assortment of local talent to have in one room at one time.
A few remarks will be shared by Laura Lindenfeld, the interim dean of SBU School of Journalism and executive director of the Alan Alda Center for Communicating Science. Gentle background music will be handled by the talented Three Village Chamber Players. And there will be the usual basket raffles.
A special and huge thank you to Laura Mastriano of L.A. Productions Events.
Now we need you!
To purchase tickets, please visit our website tbrnewsmedia.com or our TBR News Media Facebook page to pay with PayPal.
We also need sponsors who would like to support and be associated with this "high tone" event — as one of the vendors put it last year — to please contact us. Sponsorships may be had starting at $125 and will feature your name and logo in our newspapers, social media and our website, including a major "thank you" ad after the event. First one just in is Andy Polan, talented optician and owner at Stony Brook Vision World. And a big thank you to Camelot Party Rentals for their in kind donation. We would welcome your call at the newspaper office at 631-751-7744 or email [email protected]
So come share in a delightful and satisfying event with lots of good food, good drink and good conversation. We hope you will follow up with visits to the participating eateries and caterers who have given of their time and specialties, and that you will enjoy reading your new books. We think when you leave the beautiful Bates House, you will be proud that you live in the area. And it certainly beats cooking dinner on a Tuesday night.