Between You and Me: An attempt at midwinter inspiration, with some tongue in cheek
By Leah Dunaief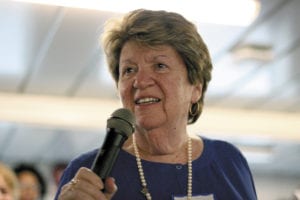 Presidents Day, as we honor those we hold on a pedestal, is a time for inspiration. Here are some inspirational sayings, some humorously so, that have been culled from the internet. 
1. Don't talk, just act. Don't say, just show. Don't promise, just prove.
2. Good things come to those who believe, better things come to those who are patient and the best things come to those who don't give up.
3. Never give up on a dream just because of the time it will take to accomplish it, time will pass anyway.
4. Sometimes good things fall apart so better things can fall together. (Marilyn Monroe)
5. What you think, you become. What you feel, you attract. What you imagine, you create. (Buddha)
 6. Don't wish it was easier, wish you were better. Don't wish for less problems, wish for more skills. Don't wish for less challenge, wish for more wisdom. (Jim Rohn)
 7. Watch your thoughts; they become words. Watch your words; they become actions. Watch your actions; they become habits. Watch your habits; they become character. Watch your character; it becomes your destiny. (Frank Outlaw)
 8. Success is not the key to happiness. Happiness is the key to success. If you love what you are doing, you will be successful. (Herman Cain)
 9. Rule No. 1 of life. Do what makes you happy.
10. No matter how you feel … get up, dress up, show up and never give up.
11. If you can't change the circumstances, change your attitude. Funny thing is, when you do, you'll find that the circumstances often change.
12. Hustle in silence and let your success make the noise.
13. Home is where the Wi-Fi connects automatically.
14. The clock is running. Make the most of today. Time waits for no man. Yesterday is history. Tomorrow is a mystery. Today is a gift. That's why it is called the present. (Alice Morse Earle)
15. Promise me you'll always remember: You're braver than you believe, and stronger than you seem, and smarter than you think.
16. You don't always need a plan. Sometimes you just need to breathe, trust, let go and see what happens. (Mandy Hale)
17. When you stop chasing the wrong things you give the right things a chance to catch you. (Lolly Daskal)
18. Follow your passion. Listen to your heart. Trust the process. Be grateful. Life is magic and your dreams matter.
19. Every day may not be good, but there is something good in every day.
20. The secret of change is to focus all of your energy, not on fighting the old but on building the new. 
21. You should never regret anything in life. If it's good, it's wonderful. If it's bad, it is experience.
22. For every minute you are angry, you lose 60 seconds of happiness.
23. Never give up on what you really want to do. The person with big dreams is more powerful than one with all the facts.
24. One: Remember to look up at the stars and not down at your feet. Two: Never give up work. Work gives you meaning and purpose, and life is empty without it. Three: If you are lucky enough to find love, remember it is there and don't throw it away. (Stephen Hawking)
25. Never allow someone to be your priority while allowing yourself to be their option.
26. Be with someone who knows exactly what they have when they have you.
27. Money talks … but all mine ever says is goodbye.
28. A clear conscience is usually the sign of a bad memory.
29. Marriage is like a deck of cards. In the beginning all you need is two hearts and a diamond, but by the end you wish you had a club and a spade.
30. An entire sea of water can't sink a ship unless it gets inside the ship. Similarly, the negativity of the world can't put you down unless you allow it to get inside you.
31. Yawning is your body's way of saying 20 percent battery remaining.
32. What do you call a bear with no teeth? A gummy bear!